Henley Symphony Orchestra celebrated its 50th anniversary in 2020. From the first concert held in 1970 in a borrowed marquee in Shiplake, HSO has gone from strength to strength and now attracts some fifty players from across the Thames Valley.
The orchestra promotes an annual series of four concerts featuring internationally acclaimed artists. The aim is to provide high-quality music-making at affordable prices and to give local musicians a chance to perform the great classical orchestral repertoire. HSO has also given performances in Henley's twin towns of Falaise and Leichlingen and at Bled International Music Festival in Slovenia. HSO performs an increasingly demanding classical repertoire and has been able to attract world-class soloists, including John Lill, Tasmin Little, Stephen Isserlis, Evelyn Glennie, Stephen Hough, Sheku Kanneh-Mason, Min Kym, Martin Roscoe and Peter Donohoe.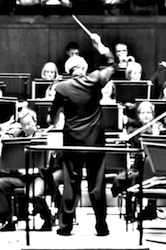 Putting on concerts to a high standard is an expensive undertaking, and the HSO Friends' scheme provides valuable financial support whilst also forming a group of like-minded music-lovers to be the backbone of our audience.  
There are three levels of membership, with a minimum annual donation as follows:
The Footlights: Suggested annual donation of £40
The Spotlights: Suggested annual donation of £100
The Limelight: Suggested annual donation of £200
Depending on the level of support, your benefits will include:
Priority booking for the best

seats

Reserved tickets at reduced prices

Notification of forthcoming concerts and other activities

An invitation to attend an annual informal musical evening with

refreshments
If you would like to become a Friend please contact the Friends' Secretary for further details, either via the contact form or directly via email at hsofriends2020@gmail.com
We would be delighted to hear from you.
Advertising and Sponsorship
As well as support from Friends of the orchestra, we welcome advertising in the printed concert programmes – the current rates (2023-24) are below.

We are looking to build our sponsorship and donations from individuals and businesses – this could be in the shape of backing a soloist, providing refreshments, poster/ banner printing, gifts for concerto performers, or any other aspect of the concerts, large or small. Donors will be named if they wish in the programmes, and sponsors of a complete concert can be named on the posters, banners, and front page of the programme.
Advertising rates for usual A5-size programmes:
Whole page (portrait) £120 per concert or £320 for the full season.
Half page (landscape) £60 per concert or £160 for the full season.
Please contact us for more information.
Sign Up to our Mailing List
Would you like to receive email notifications of future concerts? Enter your email address on our contact form and select 'Notify me about concerts'.