Saturday 9th December 2023, 6.30pm - 7.45pm
A Concert for Christmas followed by mulled wine, soft drinks and mince pies 
Programme:
Coleridge Taylor Christmas Overture 
Florence Price Adoration 
Leroy Anderson Christmas Festival 
Leroy Anderson Plink Plank Plunk & Fiddle Faddle 
Mozart Adagio for violin and orchestra 
Mozart, Leopold Sleigh Ride 
Handel Arrival of the Queen of Sheba 
Rossini William Tell Overture 
Moncayo Huapango 
Leroy Anderson Sleigh Ride 
Carols for all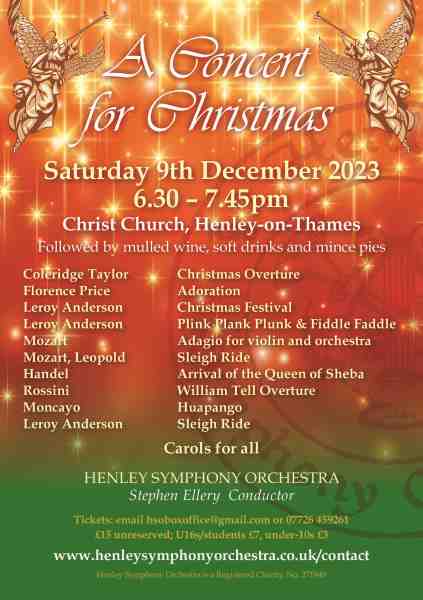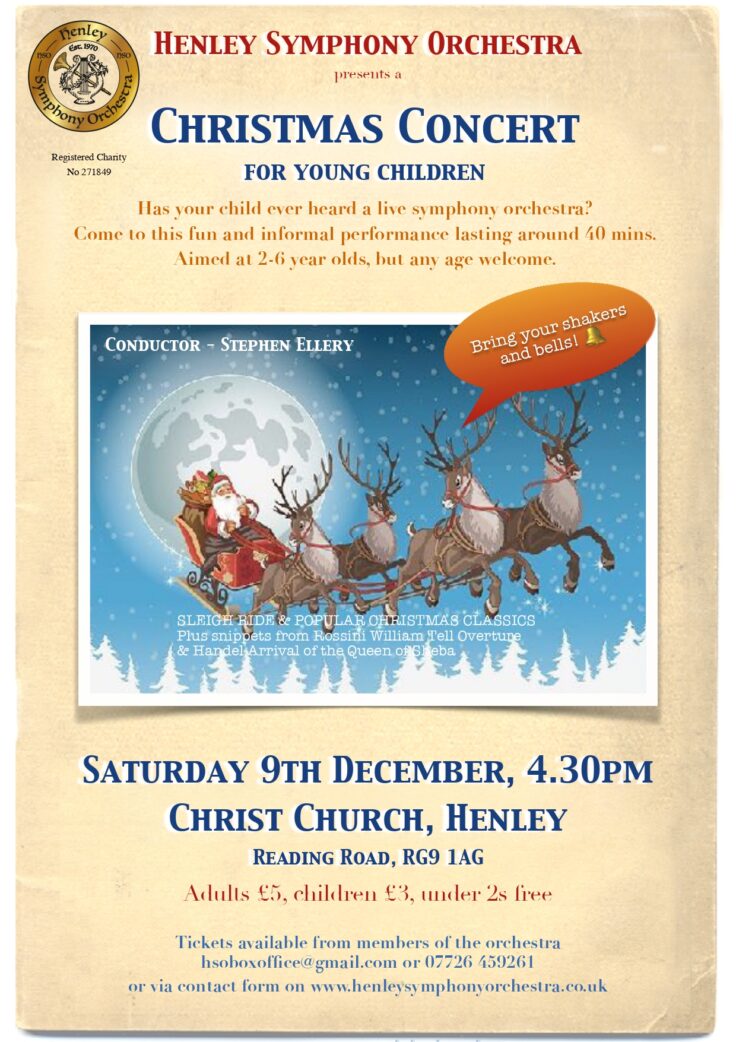 Saturday 9th December 2023, 4.30pm​
Christmas Concert for young children 
Has your child ever heard a live symphony orchestra?  Come to this fun and informal performance lasting around 40 minutes.  Aimed at 2-6 year olds, but any age welcome.
Sleigh Ride and other popular Christmas Classics
Plus snippets from Rossini William Tell Overture and Handel Arrival of the Queen of Sheba

6.30pm Concert: £15 full price, £7 under 16/student, £3 under 10 years
4.30pm Concert: £5 adult, £3 child, under 2s free
Available via the contact form or from the box office on 07726 459261 or hsoboxoffice@gmail.com.
Forthcoming Concerts 2023-24
Sunday 17th March 2024 at 7pm
Hexagon, Reading
Programme to include works by Brahms and Elgar.
Saturday 29th June 2024 at 7.30pm
St Mary's Church, Henley
Emma Johnson, Clarinet
Programme  to include works by Weber and Shostakovich